Wow your neighbours with one of Reddish Joinery's wooden front doors
When you want your home to give off a lasting impression, the best possible way to do so is with a wooden front door. The natural beauty of timber will really give the front of your home the wow effect. Despite being the traditional door material of choice, a plethora of door styles, colour finishes and furniture options are there for you to select from, ensuring there is a timber front door to suit homes of all shapes, styles and ages.
When choosing Reddish Joinery to install a wooden front door to your home, you can choose whether to have an Accoya front door or a hardwood front door.
Maximum durability and sustainability when choosing an Accoya front door
Accoya is one of the most sustainable softwoods on the market. It has been modified by a process known as acetylation, giving the wood incredible dimensional stability and durability whilst making it indigestible to a huge range of insects and resistant to rot. This ensures Accoya front doors will retain their quality for years. They're expected to last in excess of 50 years without being varnished or painted, so maintenance times are even lower than with traditional timbers.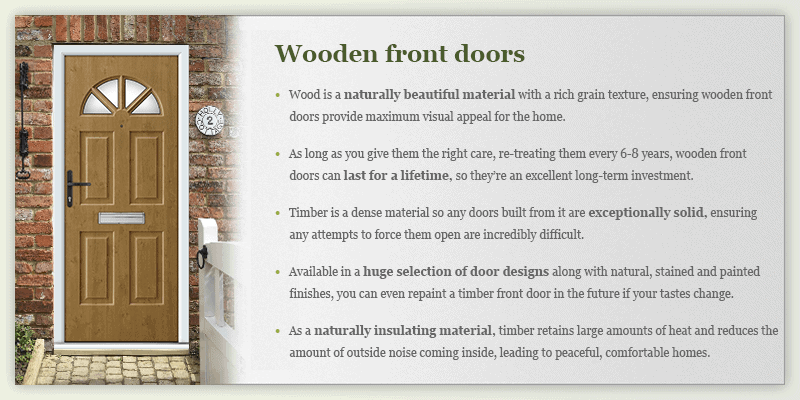 Why choose a timber front door from Reddish Joinery?
Not only do we have extensive experience fitting wooden front doors but we also produce the doors ourselves. This means we have direct influence over quality control and every front door we manufacture must meet our strict quality criteria before our expert fitting team installs one for your home. This ensures that the quality of our wooden front doors is consistently excellent.
We're also committed to reducing our carbon footprint so we utilise sustainable building materials like Accoya® wood, helping to do our bit for the environment. When buying an Accoya front door from us, you'll also be getting the services of one of the UK's leading Accoya and aluminium specialists, resulting in an installation that is of undoubtedly excellent quality.
The Reddish Joinery Guarantee
A wooden front door can add a touch of warmth and character to your home, and at Reddish Joinery, we offer a wide range of high-quality wooden front doors to suit the specific needs and preferences of our customers.
Our team of skilled joiners and installers is dedicated to helping you find the perfect wooden front door for your home. We offer a range of styles, colors, and finishes to choose from, including traditional and modern options. Plus, our commitment to continuous investment in our products and processes ensures that all of our wooden front doors are of the highest quality and durability.
In addition to their aesthetic appeal, wooden front doors are also a practical choice for many homeowners. They are energy-efficient and can help to reduce noise pollution, making them a great option for homes in busy areas.
So if you're in the market for a new door manufacturer and installer, look no further than Reddish Joinery. Contact us today to learn more and schedule your free consultation. We look forward to serving you!